1:20 pm - 2:30 pm | Room: Sinatra | Session Chair: Rachel Smith
Glazing And Glazed Envelopes
Energy Efficient Glazing Retrofits For Office Towers
The facades of 20th century office towers have historically poor performance from a modern energy efficiency standpoint. With many large urban municipalities across Canada setting net-zero carbon targets by 2050, the vast majority of these buildings will require transformative building envelope upgrades. As our existing building stock ages, incorporating energy efficiency improvements into lifecycle cladding upgrades provides a financially viable and environmentally responsible path for these buildings. Three case studies are presented that illustrate different approaches to energy efficient glazing retrofits for office towers:
1. Sun Life's Canadian Head Office:
The existing 1987 curtain wall tower in Waterloo, Ontario, was exhibiting glazing unit failure and leaks necessitating lifecycle repair or replacement of the facade. Sun Life requested options for reducing energy use and greenhouse gas emissions, while addressing insulated glazing unit (IGU) failure and leaks in their fully occupied office building. Options reviewed included: heat mirror retrofit, triple glazing retrofit, vacuum insulated panels, and others. The client selected triple glazing in existing frames, which reduced construction impacts on occupants, saved energy, and reduced greenhouse gas emissions.
2. London City Centre Buildings:
The London City Centre buildings, also known as the TD towers in London, Ontario, feature aluminum windows and precast concrete cladding. The aluminum windows were originally single-glazed and alkaline etched. Three options for window repair/replacement were evaluated as part of the owners lease renewal strategy, including: Status quo, new IGUs in existing frames, and window replacement. The owner chose new IGUs in existing frames, which were modified and re-used to save time, money, and reduce tenant impacts in the fully-leased building.
3. HSBC Bank Place Tower Edmonton:
The HSBC office tower in Edmonton was constructed in the 1980's with a curtain wall façade. The façade was exhibiting multiple system failures including leaking, condensation, and glazing unit failure. Wholesale façade upgrades were considered to address the façade performance issues, modernize the building, and attract new tenants. Three cladding options were explored including (1) reusing the existing frames, with new glass, gaskets, and sealants, (2) Addition of an outboard curtain wall frame anchored to the existing frame as a veneer system, as well as (3) New curtain wall system including double, triple, conventional or structural silicone glazed.
Each of the three case studies explore the evaluation and design process, including technical challenges and solutions, as well as tenant and owner impacts, and simple financial implications.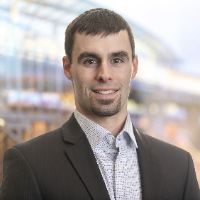 Jordan Swail, RJC Engineers
Jordan is Project Engineer at RJC Engineers with over 10 years of experience in the design of complex glazing and other building envelope systems. Jordan is a professional engineer and building science specialist. He has been the Project Engineer for several of RJC's most significant glazing restoration projects and has gained valuable experience in a variety of sectors including office, institutional, residential and commercial buildings. He has developed a reputation in southwestern Ontario as an excellent problem solver and technical resource.