8:35 am – 9:45 am | Room: Sinatra
Opening Remarks / Keynote
"The Legacy Of Buildings: Thoughts On Becoming A Good Ancestor"
Beginning with how personal and business perspectives of "sustainability" have evolved over time, we'll discuss how cultural shifts in companies and communities are required to deliver solutions in this critical time for humanity. Our industry is responsible for building on the green shoots of widespread urgency to re-establish science as a trusted basis for decision-making. We'll look at how "Building Science" issues have evolved in this context and why we need to move forward within this new paradigm.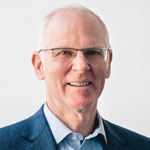 Peter Halsall, P.Eng., M.A.Sc.
Keynote Speaker
Peter has led a variety of teams to deliver high performance solutions for communities and buildings to a broad range of clients. While he was president from 1995 to 2010, the Halsall group of companies grew into a 350-person, mission-driven team in three companies. This included establishing Halsall as a leading national sustainability resource for building owners and occupants. From 2013 to 2018, he was the Executive Director at the Canadian Urban Institute an urban policy non-profit. In 2014 he was a co-founder of Synergy Partners. In 2018, he co-founded Purpose Building with former leaders of the Halsall Green Building team. He is focused on strategies for driving change in teams and developments.

Peter has been recognized with the Anthony A. Woods Award of Excellence by the Ontario Building Envelope Council, the Professional Engineers Ontario Gold Medal for Professional contributions, and Lifetime Achievement Awards by the Canada and Green Building Council and Sustainable Buildings Canada.