3:00 pm - 3 | Room: Owens Corning Room | Session Chair: Alireza Mahdavi
Resilient Building Design
Resilient Building Design For Projected Morphed Climate Data
Overheating is a concern for non-mechanically cooled buildings. This typically attributes to large amounts of glass, minimal shading, and lack of natural ventilation strategies. Improving the building envelope to meet the contemporary energy standards such as Toronto Green Standard, BC Energy Step Code (ESC) or Passive House may lead to increasing overheating if they are not addressed through design strategies that limit heat gain and promote passive cooling. It is crucial to assure that the strategies that are incorporated in the design to promote passive gains are balanced with considerations of summertime overheating. In this study, a high-rise mass timber residential building is considered in Victoria, BC. IES VE software package is used to create an energy model for this building per the requirements of the BC ESC. The building enclosure is designed to meet the highest step of the BC ESC, step 4 or net zero energy ready. The project represents an electrified building with very low carbon emissions while electric baseboard heaters are used for heating, and central heat recovery ventilators (HRV) are used to ventilate the suites at different zones of the building. A comprehensive study is done to ensure compliance with Step 4 while satisfying the thermal comfort criteria of ASHARE 55-2010 adaptive method. Several strategies are studied to ensure thermal comfort including: i) using effective external shading panels, ii) windows with optimal solar heat gain coefficient, iii) ensure effective natural ventilation through operable windows, iv) central HRV with bypass strategy, v) central cooling, and vi) reflective coating for roof. The results of this study demonstrate that using operable windows is the most effective strategy to address overheating followed by optimal solar heat gain coefficient for windows. The number of overheating hours for critical zones are determined through the energy model, and effects of the above-mentioned strategies are studied for this project.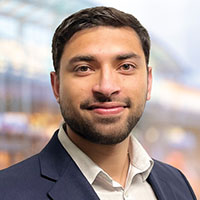 Hassan Bokhary, BSc, EIT, CEM, LEED® Green Associate, CPHD
RJC Engineers
Hassan is a Design Engineer in the Building Performance team with over six years of industry experience. He specializes in building energy simulations and analyzing energy conservation measures (ECMs) for high performance buildings in major sectors to achieve performance based on various green certifications including LEED®, Green Globes, TGS, Step Code and code based compliance. His simulation work has been primarily delivered using eQUEST, EE4, IES and RETScreen Expert, but he also has experience using Trace 700, HAP and other building energy modelling software.
Hassan's broader consulting expertise extends to existing building energy and water audits, deep green retrofit studies, financial life cycle assessments, building energy benchmarking and energy performance incentive based applications. Hassan has a passion for sustainability in buildings and has been a student mentor, providing project guidance to final year students enrolled in NAIT's Alternative Energy program.