3:00 pm - 3 | Room: Taylor Hall | Session Chair: Maria Parra
Resilient Building Design
Resilient Building Design For Projected Morphed Climate Data
Overheating is a concern for non-mechanically cooled buildings. This typically attributes to large amounts of glass, minimal shading, and lack of natural ventilation strategies. Improving the building envelope to meet the contemporary energy standards such as Toronto Green Standard, BC Energy Step Code (ESC) or Passive House may lead to increasing overheating if they are not addressed through design strategies that limit heat gain and promote passive cooling. It is crucial to assure that the strategies that are incorporated in the design to promote passive gains are balanced with considerations of summertime overheating. In this study, a high-rise mass timber residential building is considered in Victoria, BC. IES VE software package is used to create an energy model for this building per the requirements of the BC ESC. The building enclosure is designed to meet the highest step of the BC ESC, step 4 or net zero energy ready. The project represents an electrified building with very low carbon emissions while electric baseboard heaters are used for heating, and central heat recovery ventilators (HRV) are used to ventilate the suites at different zones of the building. A comprehensive study is done to ensure compliance with Step 4 while satisfying the thermal comfort criteria of ASHARE 55-2010 adaptive method. Several strategies are studied to ensure thermal comfort including: i) using effective external shading panels, ii) windows with optimal solar heat gain coefficient, iii) ensure effective natural ventilation through operable windows, iv) central HRV with bypass strategy, v) central cooling, and vi) reflective coating for roof. The results of this study demonstrate that using operable windows is the most effective strategy to address overheating followed by optimal solar heat gain coefficient for windows. The number of overheating hours for critical zones are determined through the energy model, and effects of the above-mentioned strategies are studied for this project.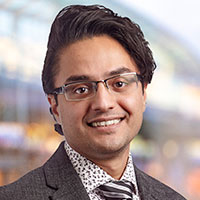 Mohammad Fakoor, Read Jones Christoffersen Ltd.
Dr. Mohammad Fakoor is the technical lead for the building performance team at RJC Engineers, and his work involves project work, technical review, and education for energy modelling, airtightness testing, research, and carbon life cycle analysis. Mohammad has worked on a variety of projects including emerging solar energy applications, energy efficiency of residential/commercial/industrial buildings, carbon life cycle assessment (LCA) analysis for concrete/steel/timber structures, and building enclosure airtightness testing. This multifaceted work requires combined expertise in heat transfer, thermodynamics, fluid flow, HVAC, and building science. A published author and lecturer, Mohammad actively contributes to his field through practice and research with his work extensively cited in pertinent literature.