1:30 pm - 2:50 pm | Room: Owens Corning Room | Session Chair: Lori O'Malley
Field Performance Evaluations
Practical Solutions For Enhancing The Thermal Performance Of Conventional Curtain Wall System
The design & performance of a façade is unquestionably the most important variable when it comes to the evaluation of energy use, utility cost, and greenhouse gas emissions. As space heating accounts for nearly two-thirds of energy use in residential and commercial buildings, limiting heat transfer through the envelope is an increasingly important variable as more robust standards are expected from regulatory bodies and project stakeholders.
The Net-Zero Emissions Accountability Act, which became law on June 29, 2021, is a foundational piece of legislation that forms the kernel of Canada's commitment to achieve net-zero emissions by 2050. While this pledge cast a broad brush across Canadian industry, its impact will be readily felt with the construction community as buildings will require higher performing and increasingly robust systems.
The objective of this study is to communicate the practical & constructible solutions that exist to reduce the thermal transmittance of conventional curtain wall systems. Through the replacement of high-conductive components with more thermally efficient materials, heat transfer via thermal bridging can be reduced by significant levels.
For the purposes of the study, designers were tasked with the development of details for a fictitious project, whose performance targets were in-line with other net-zero projects. Final details were submitted to engineers for quantitative analysis using industry accepted tools. Specifically, the study is based on 2D/3D thermal simulation using Therm software developed by Lawrence Berkeley National Laboratory, Solido 3D thermal software developed by Physible and the modified NFRC method for spandrel thermal transmittance calculations. Results show a critical improvement in thermal performance of the assembly, supporting our hypothesis that practical solutions exist to meet the increased thermal performance targets forthcoming to industry.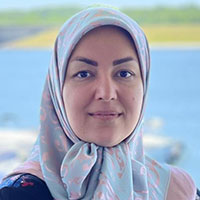 Shahima Rahmatipour, Antamex Industries
bio coming soon