1:30 pm - 2:50 pm | Room: Taylor Hall | Session Chair: Lori O'Malley
Field Performance Evaluations
Air Permeance Of Wood Sheathings With Integral Or Overlaid Air Barriers And Water Resistant Barriers
The North American building industry is increasingly following low and net-zero energy and zero carbon design paradigms in requiring higher levels of airtightness. Globally, Passive House builders have been exploring different approaches to air barrier systems for exterior wall assemblies of low- to mid-rise wood framed buildings. These efforts suggest that some of these materials, particularly OSB, are not airtight, and that alternative materials and methods are needed to achieve airtightness (Cushman, 2015; Langmans, Klein, & Roels, 2010).
A research program was developed and executed to further characterize and quantify the air permeance of three wood-based sheathing products, alone and as part of air barrier systems. The wood-based products included one sheathing product with an integrated air and water barrier, and two conventional wood-based sheathing products (i.e. plywood and OSB) with a loose-laid, mechanically fastened WRB/AB installed during sub-assembly testing. The program included three rounds of ASTM E2178 testing to measure and compare the air permeance of:
the sheathing products alone, newand weathered (Round 1);
wood-framed air barrier sub-assemblies incorporating the sheathing products (Round 2), and;
vinyl siding-clad sub-assemblies (Round 3).
The air permeance of the wood-based sheathing products was found to be highly variable: non-weathered (ie. new) OSB air permeance did not achieve the air barrier material performance requirement of 0.02 lps/m2 at 75 Pa during Round 1, whereas the wood-based sheathing with integrated WRB/AB remained below this cutoff during all three rounds of testing. Plywood initially met the requirement but became more air permeable after weathering, exceeding air permeance requirements of 0.02 lps/m2 at 75 Pa. Round 2 of testing demonstrated the importance of air barrier details, with all sub-assemblies performing within the 0.02 lps/m2 at 75 Pa limit. Round 3 testing, where vinyl siding was installed on two sub-assemblies, showed that a loose-laid, mechanically attached air barrier becomes air leaky after cladding attachment, while the sheathing product with the integrated WRB/AB and taped joints maintained a high level of airtightness even with siding nails penetrating through the sheathing.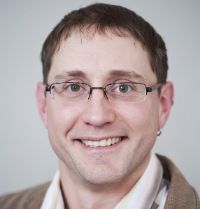 Jonathan Smegal, RDH Building Science Inc.
Dr. Neal Holcroft is a Scientist at FPInnovations specializing in the hygrothermal performance of wood-based building envelope systems. He is currently involved in research in the areas of monitoring of mass timber buildings to assess durability and energy performance, hygrothermal model validation of wood-based assemblies, airtightness of prefabricated buildings and design to promote the circular economy. Neal has a PhD in Building Science from the University of Bath in the UK and has been living in Canada for the last 5 years.