9:00 am - 10:00 am | Room: Sinatra | Session Chair: Peter Adams
High Performance Envelope Design
Towards Achieving Net Zero Energy - Lessons Learned From St. Benedict's Church
Addressing global warming by radically reducing greenhouse gas emissions and creating resilience within the built environment to resist the negative impacts of climate change is an existential imperative for the construction industry. To this end, St. Benedict's Church in Milton, Ontario, is designed to be the first 'net-zero energy' worship space in Canada. Energy modeling conducted during the design phases predicts that the building will be able to achieve zero carbon emissions operationally through its sole use of geothermal energy sources and energy recovery ventilation systems to heat/cool the building. It has also been able to achieve a low embodied carbon in its use of heavy timber/glulam structural systems and locally quarried stone for exterior cladding and interior finishes in its major assembly spaces. Careful research and consideration were given to the design of the building envelope materials, components, and assemblies as a primary design strategy to achieve air-tightness and reduce energy consumption. Use of high effective R-values beyond current building code requirements for Part 3 buildings, (R-60 roof, R-35 walls, R15 under slab-on-grade), thermal mass, attempts to eliminate thermal bridging in building envelope assemblies, proprietary triple glazing in highly efficient thermally broken frames, and careful detailing at transitions between building envelope components and assemblies were all strategies employed by the project design team. The efficacy of these decisions was ultimately impacted by other design decisions that responded to the planning approvals process, mechanical and electrical distribution systems, occupant program requirements, and aesthetics appropriate to the design of sacred space.
With the help of building details described in the contract documents, photos that were taken during the construction process, and third party inspections and testing documentation, the presentation will focus on the importance of agile decision making on-site, and the need for cooperation and collaboration with all members of the project delivery team to ensure design intent compliance and achieve project goals for energy efficiency. The presentation will highlight lessons learned where difficulties were met by the contractor to meet the design intent detailed in construction documentation, resulting in new assemblies, materials, and/or methodologies that had to be implemented wherever feasible as the construction process unfolded. This project will provide invaluable first-hand information for those construction industry leaders attempting to deliver their client's building projects in ways that meet or exceed "net-zero energy" and/or "zero carbon emissions".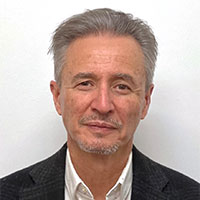 Roberto Chiotti, Larkin Architect
In addition to his professional architectural credentials, Roberto Chiotti completed graduate studies in theology at the University of St. Michael's College, University of Toronto, with a specialty in Theology and Ecology. He is a founding principal of Larkin Architect Limited, an award-winning, values-based firm specializing in the design of sustainable sacred space. Notable projects include Canada's first LEED Gold Certified church for St. Gabriel's parish in Toronto and a new church for St. Benedict's parish in Milton designed to be Canada's first net-zero energy worship space.
Roberto has been invited to write, teach, and speak extensively on the topics of Sustainable Design, Sacred Space, and the Cosmological Response to the Ecological Challenges facing humanity as it relates to architecture and education at universities, colleges, religious and architecture conferences, and professional organizations across Canada and abroad.