1:30 pm - 2:50 pm | Room: Sinatra | Session Chair: Mila Aleksic
Low Carbon Buildings
Exploring A Multi-Faceted Approach To Design A Carbon-Neutral Passive House
The objective of this paper is to explore carbon neutral Passive House design. Passive House presents an opportunity to reduce operational carbon by a significant amount compared to a traditional building. However, as buildings become more energy efficient, the reduction of embodied carbon becomes more impactful. There is a knowledge gap in the embodied carbon impacts of more energy efficient buildings, in particular Part 3 construction. Standards such as the CaGBC Net Zero Carbon Standard outline steps for achieving carbon neutral construction. In this case study, a life cycle assessment (LCA) using OneClick LCA software is performed on three scenarios. Case 1 is a Part 3, multi-unit residential building (MURB) in Victoria, BC following business-as-usual design criteria. Case 2 uses its theoretical Passive House-compliant version as an improved design prior to Case 3, which explores the feasibility of achieving carbon neutrality by prioritizing biogenic materials. The LCA considers Stages A-D and a building lifetime of 60 years. A multi-faceted approach outlines an alternative means of potentially achieving carbon neutrality with a focus on the structural and building envelope components. Two types of wood-frame structures are compared: laminated veneer lumber with engineered wood joists and cross-laminated timber (CLT). Concrete is used for the foundation and core with high volumes of supplementary cementitious materials (SCM) added to reduce carbon emissions in the Case 3. Cellulose is explored as an alternative insulation option. Wood panels along with corten steel are explored as lower embodied-carbon cladding options. Results are compared to the baseline building with the as-designed cladding and structural materials. As seen in the results, the carbon neutral design has the lowest amount of greenhouse gases while also having the most biogenic carbon, making it the most efficient design for operational and embodied carbon.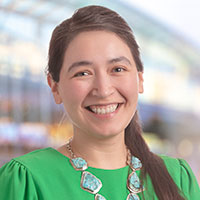 Veronica Ochoa, RJC Engineers
Veronica is a built-environment professional with experience working as both client and consultant. Her client-side experience includes managing engineering consultants and reviewing their deliverables, as well as contributing to corporate net zero carbon strategies for compliance with wider environmental targets, such as circular economy, Science Based Targets and wellbeing in buildings.
Veronica's technical know-how stems from her experience utilizing dynamic thermal modelling software to deliver analyses accounting for operational carbon and lately, embodied carbon. She is also experienced in managing environmental and wellbeing certifications sought by blue-chip clients to meet corporate real estate targets, and undertaking bespoke environmental research as needed for each project.