10:40 am - 12:00 pm | Room: Owens Corning Room | Session Chair: Graham Finch
Novel Testing Approaches
Evaluation And Design Of Novel Test Chambers For In Situ Analysis Of High-Performance Building Components
If emissions and climate change effects are to be mitigated in alignment with national and international goals, further implementation of low carbon technologies is a necessity. It is imperative to target buildings, which currently produce over one-third of carbon emissions globally, with low carbon energy systems and high-performance materials. Prior to the implementation of novel building materials, however, they must be fully assessed to quantify their properties and impact on energy and emissions performance of buildings.
In this study, two identical 3 m by 3 m by 3 m chambers were designed and are in the construction process at the Carleton University Centre for Advanced Building Research (CABER) facility. The two chambers are of identical design and construction, with one outfitted as a reference case, using standard construction practices and materials for a given scenario, while the second is outfitted with the new or novel materials or construction practices to be tested. Through a comparison of the surface and air temperatures, the energy consumption to heat and cool the space, as well as environmental conditions specific to the test scenario (e.g., relative humidity, CO2 concentrations, etc.), a detailed comparison between the reference case and the test case can be completed. These in situ chambers are invaluable in the assessment of several innovative building research areas including novel thermal storage systems and occupant comfort enhancement. Further within these research topics, the chambers will be used for optimization processes for various high-performance technologies to minimize energy and emissions, and for validation of calculations and assumptions made within simulation tools.
The objective of this design study was to produce full construction and instrumentation plans and experimental procedures for the chambers. To determine and illustrate the sensitivity of the chambers to inputs such as infiltration, building material variations, and window size and specifications, a detailed model was developed within EnergyPlus. This paper presents the simulation results and trends observed through the analysis and rationale for design decisions, in addition to the instrumentation and construction plans. The design for the chamber includes full instrumentation and control of temperatures, conditioning systems, and solar gains, such that they are capable of facilitating research in many areas of building science. Descriptions of the novel research planned for these rooms and their full capabilities are included within this paper.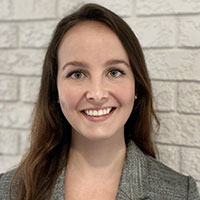 Calene Treichel, Solar Energy Systems Lab
Calene Treichel is a PhD student in Mechanical Engineering at Carleton University studying at the Centre for Advanced Building Envelope Research (CABER). Her research interests are focused on using both experiments and simulations to assess the impacts of phase change materials on cold climate buildings for the purpose of reducing space heating and cooling loads. She is passionate about sustainable building solutions, clean energy, and increasing the participation of women in engineering.